Love Your Age At Any Age
TREATMENT OF SKIN REDNESS, TINY VEINS, BROWN SPOTS, AND SUN DAMAGE
CuteraⓇ LimeLight IPL Photo Rejuvenation is a technique we use at MC Laser to create visible improvement in the health and appearance of damaged or aging skin. At MC Laser we offer photo rejuvenation treatment with CuteraⓇ LimeLight IPL. It is a unique IPL technique that clears the skin of hyper-pigmented cells. Our clinical aesthetician will provide you with an in-depth skin analysis to ensure that you get the best results for your skin.
Repair. Restore. Renew Your Skin.
There is beauty in the transformation of a flower as it blossoms.
Is your skin in need of a transformation?
CuteraⓇ LimeLight IPL Photo Rejuvenation makes complete skin transformation possible. Whatever your skin tone, your complexion, CuteraⓇ LimeLight IPL Photo Rejuvenation offers safe, effective treatments for a wide range of aesthetic concerns, all while giving your skin a lift and your confidence boost.
In just a few treatments, you'll see visible improvements in:
Fine lines and wrinkles,

Sun damage, freckles,

Age/ brown spots,

Facial redness,

Facial and leg veins.
Let your skin blossom with confidence.
HOW DOES CuteraⓇ LimeLight IPL Photo Rejuvenation WORK?
CuteraⓇ Photo Rejuvenation leverages IPL to heat the skin and break up the pigmented cells, whether red or brown. This causes broken up pigmented cells to rise to the surface, dying and falling off, revealing rejuvenated skin underneath. The skin at the top now is clear and renewed. Depending on the severity of your skin damage, the session may last 30 to 45 minutes. The treatment may cause a slight tingling sensation when the light pulses on the skin and cooling gel is applied to provide comfort. The entire process is non-invasive and produces excellent, consistent results.
WHAT DOES PHOTO AGING MEAN?
Photo aging is the result of sun exposure prematurely damaging the health and appearance of your skin. UVA and UVB causes sun spots, discoloration, wrinkles, and many other negative effects that cause skin to look aged before its time.
This happens because the ultraviolet light from the sun penetrates the outer layer of the skin, called the epidermis, and the second layer of skin, called the dermis, and damages the cells underneath. This leads to excess creation of pigment to protect your skin from the sun's rays. The sun is the number one cause of premature skin aging but this can be prevented by protecting your skin whenever you expose it to the sun. Protecting your skin with a high quality sunscreen also reduces your risk of skin cancer.
CuteraⓇ LimeLight IPL Photo Rejuvenation TREATMENT RESULTS
Once the treatment session is complete, your skin will look red. This is a normal and important part of the healing process. Skin that is red after treatment is responding well to photo rejuvenation. After it's done, your skin will be clear and renewed, with the brown or red pigments gone.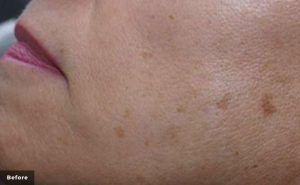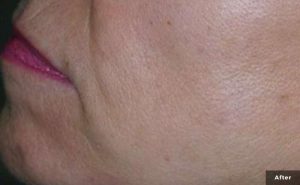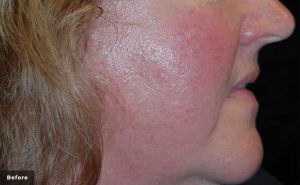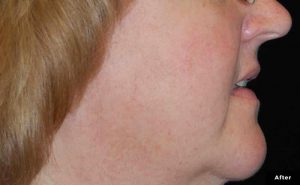 Still Have Questions?
DO I REQUIRE A CONSULTATION BEFORE I SCHEDULE A TREATMENT?
Yes. We use VISIA™ Complexion Analysis to evaluate your skin in depth. At MC Laser, we are proud to have access to VISIA™ Complexion Analysis so that we can give you the best recommendation for your skin's health and appearance.
IS THE PROCEDURE PAINFUL?
No. You may experience a mild tingling sensation as the light goes over your skin. The sensation is slight and does not last very long.
HOW MANY TREATMENTS ARE REQUIRED?
One to three treatments are usually sufficient to see results. Additional treatments may be recommended, especially for excessively sun-damaged skin.
WHAT HAPPENS AFTER THE TREATMENT?
The process of skin rejuvenation begins. Immediately following treatment, your skin may appear slightly red. The treated area may be mildly swollen. This typically lasts a few hours and possibly a day or longer. Make-up can be applied to cover the redness. The brown spots will start to darken and your skin texture begins to look coarser, similar to coffee grinds. Before long, the coarse skin will slough off and reveal healthy, new, rejuvenated skin.
HOW LONG DO THE RESULTS LAST?
CuteraⓇ Photo Rejuvenation lasts for several years. With time and natural aging, you may find you require maintenance treatments. If that's the case, catching it early may restore your appearance in only one treatment, rather than one to three.
WHAT AREAS CAN BENEFIT FROM IPL PHOTOREJUVENATION?
The face, neck, chest and backs of the hands are the areas that can benefit the most from CuteraⓇ Photo Rejuvenation.
Ready To Get Started?
Come see us to have a complimentary VISIA™ Complexion Analysis consultation to get started.